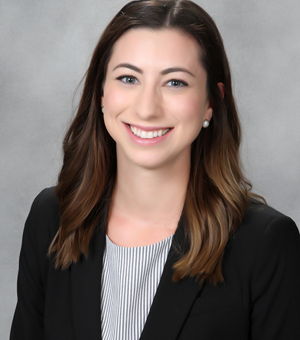 DOCTOR OF OPTOMETRY
Dr. Smith grew up in Avon, Indiana and attended Avon High School. At age 12, she suffered a severe eye infection from sleeping in her contacts that introduced her to her first Optometrist. Ever since that moment, she was quickly fascinated with the world of optometry, shadowing her Optometrist any chance she got! After graduating from high school, Dr. Smith knew that optometry was her calling.
Dr. Smith graduated from Purdue University for her undergrad where she studied Health Science Pre-Optometry. She then joined and became the President of the Purdue Pre-Optometry Club. Since 2013, she has gained many years of experience in the optical industry as a lab technician, optician and optometric technician before attending optometry school.
She attended the prestigious IU School of Optometry. At IU she was involved in the Private Practice Club, Beta Sigma Kappa, Indiana University Optometric Student Association, and the contact lens club. She also was a tutor in pharmacology and ocular pharmacology for other Optometry students.
Dr. Smith went on to train at many different facilities such as Eye Surgeons of Indiana, the VA Tallahassee Outpatient Clinic, Atwater Eye Care Center, and the Villages VA Outpatient Clinic, all of which gave her fantastic experience in primary care. Her most memorable training was for six months at Veteran's Hospitals in Florida. Here her optometric care specialized in disease management such as glaucoma, macular degeneration and diabetes.
Dr. Smith's article "Marketing Yourself as a Millennial Doctor" was published in the American Optometric Association's journal, Foresight. Here she discussed a variety of ways that she sets herself apart as a Millennial. Her goal in writing the article was to educate highly trained professionals that many millennial doctors have learned more efficient skills on how to make eye care as thorough and efficient as possible for the patient.
What do you love about your job the most?
I enjoy primary care because I can see patients aged 6 months to over 100! And every day looks a little different. Primary care is really all of the specialties combined. It's seeing children that can't see the board, or with binocular vision problems and sending them to vision therapy; as well as treating and managing dry eye, glaucoma, macular degeneration, cataracts, etc. I get to see patients of all ages and backgrounds and get them the care they need.
How are you going to engage with your patients?
I've had the opportunity to work with a variety of doctors in different specialties over the years. I've learned from them and try to explain your eye health and vision as simplistically as I can.
How would your friends say is your best personality trait?
My friends would say that I am compassionate. I'm always trying to put myself in other people's shoes and treating them how I would want to be treated.
We've heard you are into fitness, what do you enjoy most?
I currently live in Carmel, Indiana, and enjoy being outdoors, biking, kayaking and spending time with friends and family.