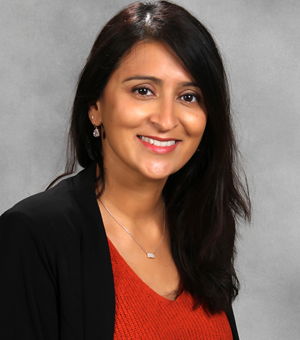 Though a midwest native, Dr. Shah spent most of her school age and formative years on the east coast, in Boston and New York, where much of her family still resides. While training, she attended the State of University of New York College Of Optometry where she served as Vice-President and President of her class. During fourth-year internships, she trained in pediatric care and vision therapy with some of the leading instructors in the field. In an effort to be well versed in all specialties, she chose to follow up this training with a residency in ocular disease and low vision at the VA hospital in West Haven, CT. Over the years, Dr. Shah also served on various medical missions where she managed the eye and vision needs in rural areas in the United States, Nicaragua, and in remote villages in the Himalayan Mountains.
Dr. Shah settled in the northern Indianapolis area in 2009 and has been providing eye care in Fishers and its surrounding areas ever since. Dr. Shah loves getting to know families within our community and meeting all their vision and eye health needs. She especially enjoys solving the needs of patients with dry eye disease, as well as those with focusing deficiencies that can cause headaches, eye strain, or poor performance in school. Making sure children start their eye exams early at 6 months, 3 years, and 5 years is her passion project. She doesn't want to see simple vision issues going undiagnosed and being misread as a disinterest in school or learning problems anymore.
While not seeing patients, she enjoys spending time with her husband, daughter, and two sons. She keeps busy being a soccer, volleyball, and cross country mom. In her free time she enjoys bike rides on the Monon trail, playing board games, dancing, and traveling.